~ 13 Reasons Why…Not Episode 3 ~
The Netflix Series, 13 Reasons Why, revolves around a 17 year old, Hannah Baker, who takes her own life. She leaves behind 13 audio recordings outlining 13 reasons why she made the decision to end her life.
People of all ages are binge-watching the Series, as only one can with Netflix ;)! In its first week alone, there were 3,585,110 tweets about the Series. Proof that people are watching it and then, posting about it!
School Districts across North America are warning parents of this series and suggesting that people don't watch it, as they feel it glorifies suicide. I'd like to take a different perspective and actually invite you to watch it.
River MacDonald, my (almost) 17 year old son, and I dialogue about this Series from our combined teenage perspective & parent perspective on what parents can be doing to help their child make a different choice.
Our main point is: watch for patterns of behaviour in yourself and in your teen.
Parents can get wrapped up:
-biz concerns
-conflict between parents
-finances
-significant move
-blended families
-substance abuse
-changing schools
Signs that the parents missed:
-mood changes
-drastic appearance differences
-friends drop off
-making schools
-giving things away
More Depression Signs:
http://www.webmd.com/depression/guide/teen-depression#1-3
Suicide Signs:
http://www.webmd.com/depression/guide/teen-depression#3-8
Solutions:
-quality time, not quantity of time
-open door policy for friends
-connect with school
-counselling
More Solutions:
http://www.webmd.com/depression/guide/teen-depression#3-9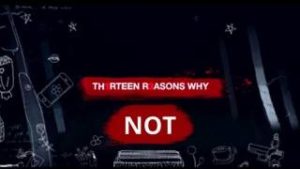 Podcast: Play in new window | Download
Subscribe: Apple Podcasts | Google Podcasts | Email | RSS