The Netflix Series, 13 Reasons Why, revolves around a 17 year old, Hannah Baker, who takes her own life. She leaves behind 13 audio recordings outlining 13 reasons why she made the decision to end her life.
People of all ages are binge-watching the Series, as only one can with Netflix ;)! In its first week alone, there were 3,585,110 tweets about the Series. Proof that people are watching it and then, posting about it!
School Districts across North America are warning parents of this series and suggesting that people don't watch it, as they feel it glorifies suicide. I'd like to take a different perspective and actually invite you to watch it with eyes wide OPEN.
This episode talks more about anxiety. I'm inviting parents to help their children embrace anxiety through having their children try new things in supportive environments where failure is okay.
I'd love to continue to hear from you! And for the rest of the videos, check out my Parenting With A Twist facebook page!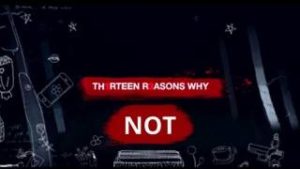 Podcast: Play in new window | Download
Subscribe: Apple Podcasts | Google Podcasts | Email | RSS